A Mountain Luxury Boutique Lodge
Grand Idyllwild Lodge Bed and Breakfast Experience
With respect for the natural landscape, vast open spaces, and its post-and-beam construction, The Grand Idyllwild Lodge integrates California Craftsman Style architecture of the early 1900's with a modern edge. The Craftsman, or Arts and Crafts Movement was an international design movement that flourished between 1860 continuing until the 1930's. This style features traditional craftsmanship using simple, elegant, forms, clean lines, and handcrafted wood, glass, and stone.
---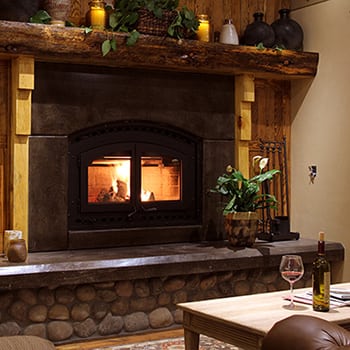 Rustic Luxury Mountain Lodge
Enjoy Lodge Style Fireplace and Other Amenities
Arriving guests are greeted by a stunning stone waterfall that cascades down the length of the driveway. A grand porte-cochere serves as a weather protector, so guests can avoid any inclement weather condition. We have seven King suites and two queen guestrooms, generous public spaces, a large lodge-style living room with a massive fireplace, oversized couches, comfortable leather chairs, and incredible views of the San Jacinto Mountains. The Lodge has a wrap-around porch, public and private decks with tables and cozy couches to rest and enjoy the rich, visual beauty of the nearby mountain terrain. We recently added a 9-hole putting green and a scenic nature trail right here on the property.
About Our Beds
Our mattresses are King size Simmons Beautyrest Recharge mattresses. (Probably the most comfortable bed you'll ever sleep in… read our Tripadvisor reviews!) Our linens are 600-thread count Cotton. Our duvets are authentic down with duvet covers that are laundered for every new customer… no typical hotel bedspreads here! All our mattresses (including box springs) are encased in a moisture, bed bug and stain proof cover to ensure that guests are experiencing the ultimate in hospitality bedding and hygiene.
With Your Stay
Breakfast (weekend full gourmet, weekday deluxe continental)
Complimentary Keurig with Starbucks coffee and tea
Elevator
Air conditioning
Large fireplace in the great room & common areas for reading & relaxation
Library with a blend of literature and art
Large window seat overlooking the trees
On site Spa, Gym and Sauna
9 Hole Putting Green and Nature Trail
High speed internet access
Indoor and outdoor water features
Wrap-around porch & deck views of Lily Rock & Tahquitz Peak
Leisurely stroll to dining and shopping
Over two-acres of land
Complimentary parking
---
---
Idyllwild California Adventures,
Located near Pine Cove
After exploring the sights and sounds of Idyllwild's bountiful surroundings–including hiking, mountain climbing, and bird watching–guests can unwind in a plush, opulent room or suite. Each accommodation is remarkably designed for comfort and space and our guests enjoy an array of amenities. Our prime location is a leisurely stroll to Idyllwild's finest dining and shopping.
Grand Idyllwild Lodge in the San Jacinto Mountains combines comfortable elegance with a sense of mountain adventure. We encourage you to come and experience The Grand Idyllwild Lodge, a luxury getaway in nature.
---
Managers:
Nathan and Aralia Martinez
---
Grand Creators:
The Grand was thoughtfully designed by its builder and owner, a true craftsman, Brad Rechtfertig. He and his wife Jacki are responsible for the conception, construction, and realization of The Grand Idyllwild Lodge. Many years of hard work and dedication made this dream a reality.
Just a fantastic place to be in the world!
Brad and Jackie have created a very beautiful, rustic but modern lodge and we absolutely love coming back here. We have stayed in a few rooms but our favorite is the Suite Memory, looking out the big windows at the forest in the mornings is awesome!
The little town of Idyllwild has everything you need, great restaurants and fun shops. So when you're up in Idyllwild, The Grand is the place to be, more than a place to stay, it's an experience you won't forget! We'll be back, again!
R&C – San Clemente, CA